--> DIVERSI-DIAL
Welcome to the DDial online community. Diversi-Dial has been with us since the early 80's and is still alive and active today! From vintage systems to new modern remakes, the DDial community is active on several different platforms. This official homepage is the hub for all DDialers and STS'ers to come together as a community to share the past, DDial in the present, and take part in the future as DDial continues to evolve into the modern world. Read More
If you are new to DDial, you're just in time. Even though DDial is nearly 40 years old, new and exciting things are emerging in our community. Get caught up on what DDial is, then select an Active DDial below and get started; everyone is welcome within this community and we look forward to meeting you.
COTOSNET written by Que is a bridge for all DDials, STS and Hybrids allowing full chat communication between all unique systems. Just like in the past with Station Links, Cotosnet is creating this ability with any new Hyrbid system that comes online. There are currently 2 Users connected via Cotosnet. All active DDials below with the Icon are connected via Cotosnet for group chat.
Help support us... by simply logging in to one of the DDials below from time to time, Signup here as a member, Join our Facebook groups, and be sure to attend our Meetup's, even if just for a few minutes to say hello. Oh, and don't forget to sign the Guestbook as a member or a moe.
--> WHAT'S NEW?
November, 2023

At MagViz we have implemented AI image generation for community access. Simply type /image (description of the image wish to create) and the picture will show up in the gallery and be available to share with others. It has been a lot of fun, sparking conversation and creativity. Give it a try! =)
A few random images created by users
July, 2023

A dash of Nostalgia
The old F/AS\T Times Newsletters published by the NJ DDials: Attic Static, Flash Talk and Frankly Speaking
--> ACTIVE DDIALS & STS's
There are currently 7 platforms that are online and active, including original vintage systems, telnet systems, and web accessible systems. All plaforms with the Icon are permanently linked togther, which means logging into any one of them connects you with ALL of them for group chat.
A modern new take on the original DDial, STS and GTalk platforms. Single click web access including mobile devices, Magviz offers a fresh approach while still keeping the classic barebones style available for the "old schoolers". Three multi player games, a BBS style discussion board, two integrated Retro IRC/MRC channels, a SubChannel panel and a whole host of new and fun commands.
There are currently 2 Users connected via Cotosnet
Retro-Dial is a telnet-accessable chat server based on the Diversi-Dial system created by Bill Basham in the early 1980's. The look and feel of Retro-Dial is almost exactly the same as D-Dial, as are many of the commands, although some command structures have been changed and some new functionality added. R-Dial is also completely link compatible with D-Dial.
There are currently 2 Users connected via Cotosnet
DigitalDial established in 2008, online 24/7 via telnet. Software RetroDial V1.5 Final installed on Raspberry-Pi. For more information visit the site. Been DDialin since 1987 and was a member of a few systems such as The Jungle, Interchat, FlashTalk, Central Control, and Savage Frontier. que is the guru cOder of the RetroDial project and so here we all are still in existent, imagine that!
There are currently 2 Users connected via Cotosnet
Original STS
(telnet/web)
The original Jungle STS by Marc. Vintage system rebuilt on an 80286, running on a DOS operating system and offering 16 lines of chat!
There are currently 2 Users connected via Cotosnet
Original Clone
(telnet/web)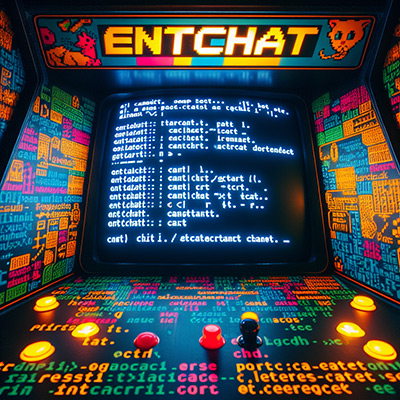 Original re-written DDial on Linux dating back to the late 90's.
Type entchat when prompted for "login"
Type /e000 for a Password (include email and ### you want)
There are currently 2 Users connected via Cotosnet
ANSI COLOR DDIAL
(telnet)
A new Telnet DDial featuring ANSI Color and Baud Rates. A work still in progress, but fully ready for old school chat with color.
Telnet lol.ddial.com 2300 on Putty or Syncterm
There are currently 2 Users connected via Cotosnet
An original DDial running on a vintage Apple || system, resurrected in 2006. Modern enhancements allow connections to be made via telnet directly with the original 300 baud modems. Get your Retro on today and connect into the only remaining original DDial.
Telnet:
rmac.ddial.com
--> RUN YOUR OWN DDIAL
Interested in being a Sysop and running your own DDial? Now you can with Retro Dial; A full blown ddial system that you can run and operate on any 32-bit or 64-bit Linux system with a network connection. Setup is quick and easy plus lifetime upgrades & updates. Start yours today with the ability to link to any ddial including the Cotosnet bridge. Visit Carriersync.com for all the details or email que@carriersync.com.